SORA

is now live!!! Use the link to check out ebooks that you can read on your Chrome Book or phone.
In order to log in and check out ebooks use the following:
Username: First.Last Jane.Doe
Password: Last name and last 4 numbers in student id  Doe1234
October winner Morgen Balser
September winner David Rice
August candy jar winner Brady Iaroli
Candy Jar Winners:
November: Hallie Brumfield
October: David Rice
Please use the link below to shop our online book fair beginning 11/8/21.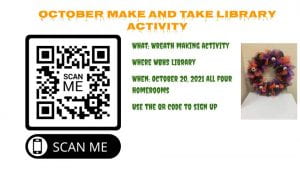 Don't forget to check the "free books" cart outside the library. New books are added daily.