I love, love, love to read. The descriptions below are some of my most recent favorites. We have most of these in the library or through the Soraapp.com. Please see me if you would like to check one out.

Be Not Far From Me
By Mindy McGinnis
Ashley goes hiking in the Smokies with her friends for a night of partying.However, when Ashley catches her boyfriend with another girl, drunken rage sends her running into the the forest, stopped only by a nasty fall into a ravine. When she wakes up confused and in pain the next morning, Ashley realizes that she's alone, severely injured, and far off trail. Lost in undisturbed forest and with nothing but the clothes on her back, Ashley must figure out how to survive despite the red streak of infection creeping up her leg.
I really enjoyed this book, It was a quick, exciting, and sometimes gory read. Ashley has to use all her survival skills while lost and is given plenty of time to contemplate her past and possibly very short future. I would recommend this to anyone who likes adventure stories. The author will be at Joseph-Beth Booksellers on   
https://www.mindymcginnis.com/podcast
Long Way Down
By Jason Reynolds
This book was amazing!
When Will's brother is killed in a gang related shooting, Will does the only thing he knows how to do: follow the neighborhood code. Will, with a gun tucked under his shirt, steps into an elevator with the intention to get revenge on the person who killed his brother. The majority of the story takes place in 60 seconds on an elevator as it moves down seven floors. As the elevator stops at each floor, Will meets someone from his past who talks to him and helps him question what is about to happen. This book is so amazing. I even talked my husband into reading it. I recommend it to high school students.
Watch the video clip of the author, Jason Reynolds, as he discusses the book and his inspirations.
Fire Keepers Daughter 
By Angeline Boulley
Daunis has known conflict her whole life. She is the 18 year-old, bi-racial daughter born in scandal. Her mother was a 16 year-old, wealthy, white teen, and her father was a Native American, want-to-be- hockey star from the nearby reservation. After infidelity on her father's part after losing his career due to an accident, Daunis' mother raises her as a single parent.
Daunis has always felt like she doesn't fit in; too pale for her Native American relatives, and too Native for her white relatives. Despite this, she still tries to be connected with her Native heritage and the tribe.
She is weighed by down by the devastating loss of her Uncle David, a teacher, a meth death, and the stroke suffered by GrandMary, they say bad luck comes in threes, Daunis is sincerely hoping not. A gifted scientist, Daunis has put off going to the University of Michigan, and is instead intending to attend college locally with her lifelong best friend, Lily Chippeway, so that she can be there for her mother. That is until bad luck number three hits. After witnessing a murder Daunis becomes entangled in an FBI investigation. Daunis agrees to help their investigation hoping to put an end to all the drug-related deaths in her tribe. The mystery-thriller touches upon many serious and relevant issues while also including a romance subplot and with new guy, Jamie. 
This book give so much insight into Daunis' Ojibwe Tribe, customs and problems. I would recommend it to any high school student who likes murder-mysteries.
A Good Girl's Guide to Murder
by Holly Jackson
Pip never truly believed what all of Fairview has accepted: that Sal Singh murdered his beautiful and popular girlfriend Andie Bell and then killed himself. There were too many obvious holes in the investigation and evidence. Five years after this tragedy rocked her town, Pip is a senior in high school, and decides for her final project that she's going to find out what really happened to Andie and Sal.

What begins as a simple project proposal quickly turns into an in-depth investigation full of unexpected twists, turns, and danger. After teaming up with the alleged murderer's brother, the pair find themselves stuck in a web of danger and deception, and quickly wonder if they've gotten themselves in too deep.
Rot and Ruin
By Jonathan Maberry
Guilty pleasure, I love me a good zombie book! There's just something about the way they bring up questions about what makes someone human and what makes someone a monster that I find hugely compelling and this book was no different. Maberry creates a haunting setting in which America has succumbed to the zombie apocalypse. Survivors have created small towns to live in, away from the rest of the world which has been dubbed "The Rot and Ruin". In these settlement camps people are trying to move on with their live, but having no idea how to do so. Most of the time, people live and die in these small spaces without ever trying to find something better out there. 
This book hits you hard with navigation of family trama. Tom Imura is one of the best characters I've come across in a while. He's such an interesting mix of grace, honor, and obligation. He genuinely loves his little brother and wants to help build a world for him that will actually mean something in the end, that can offer him something more than just waiting to die. He serves as a great mentor and is a fully fleshed out almost main character. He's the yin to Benny's yang. Benny is a good protagonist who learns a lot about himself, his brother, and what it means to be an honorable human being in a world of the dead.  In the beginning Benny Imura and his brother don't get along. He blames his brother Tom for the events of First Night when their parents died during the zombie uprising. Even though Tom's supposedly a badass zombie hunter, Benny hasn't seen any evidence of this and insists Tom's a coward. Instead, Benny hangs out with his friends a listens to tales from much cooler zombie hunters who help keep his small town safe. But when Benny starts asking questions about a young girl supposedly living in the wild, things go a little crazy. Now Benny and his brother are on a desperate mission to save their friends and they have no choice but to trust each other.The pace is pretty action packed and there were moments where I found myself holding my breath wondering what was going to happen next.  I'll definitely read book two.
 These Violent Delights
By Chloe Gong
This is a "Romeo and Juliet" retelling set in 1920's Shanghai. In this story, Shakespeare's famous play meets a new decade, one with rivaling gangs and a river monster tormenting the citizens. There is a blood feud between the White Flowers and the Scarlet Gang that has transformed the city. Alliances have been drawn and no one can stand the middle ground. We are introduced to the once-lovers, Juliette and Roma, separated by their families and a long ago betrayal. They must set aside their differences when a mysterious illness begins to inflict itself upon both gangs and civilians. There's something about the mysterious creature that helps bring the  unlikely allies together in order to figure out how to save the city, or is it the lingering feelings they still have for each other that draws them to each other? I liked the characters, especially the side characters.  Juliette's cousins, Kathleen and Rosalind, and Roma's two right hand men, Benedikt and Marshall. They get a few of their own POV chapters, and though Marshall and Kathleen were my favorites, I loved each and every one of them! I also liked the way the book thoughtfully portrayed and commented on Western imperialism. It is as much of a threat to the people of Shanghai as the monster preying on them, and it's heartbreaking to see Juliette and other Chinese people feel so helpless about the foreigners making a home in a city that is not theirs to carve a place into. 
Trigger Warnings: violence (pretty gory), abuse, racism, grief, mentions of drug use.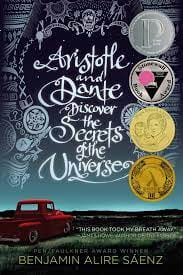 Aristotle and Dante Discover the Secrets of the Universe
By Benjamin Saenz
This book is an amazing story!!!!!!
 Sáenz tells the story of two young men, Aristotle "Ari" Mendoza and Dante Quintana growing up in El Paso, Texas during the 1980s. The plot spans their lives from age fifteen to seventeen, watching their relationship slowly grow, change and strengthen. The story is told from Ari's point of view. The short lyrical chapters pulls the reader through the narrative beautifully.

Ari has loving parents, though his father silently bears the traumas of the Vietnam War, keeping him distant from his son. Ari's sisters are a generation older, making him feel like the family mascot rather than an equal sibling. Most troubling of all, the family has erased all traces of Ari's older brother, whom he barely remembers, who went to prison for a violent crime. Ari longs to know more  about his brother and father but is left feeling betrayed by his parents' silence. Overall, Ari feels like his life "is a story written by someone else".

Ari has no real friends, nor does he want any, but in the summer of his fifteen year he meets Dante at the swimming pool, and Dante offers to teach him how to swim. They bond initially over their unusual names, but soon they are spending the bulk of their time together. They go through funny episodes, horrific accidents and tragic losses, watching their awkward and tentative friendship turn into the sort of bond that will challenge what Ari believes about himself and his capacity for love. Eventually Ari learns how to reject the story others have written for him and write his life himself. I highly recommended this book for all readers. LGBTQ+.
Free Lunch
By Rex Ogle
Rex is a 6th grader who lives with his younger brother, his mother and stepfather. They are extremely poor. Rex's Mom is always looking for a new job, his stepfather works but all they can afford second-hand clothing and rent. However there is never quite enough money to cover food and school supplies so they often go without. Mom decides to signed up for food stamps and for free lunches at school . Rex doesn't understand what this means except everyday at school he needs to announce that he is on the free lunch program to the hard of hearing lunch lady. In trying to maintain some dignity and keep the bullies off his back, he devises different ways of flying under the radar when he goes through the lunch line each day. Being hungry is not the only struggle of poverty for Rex, he is in charge of his younger brother, he sleeps in a sleeping on the floor with cockroaches, he is discriminated against in school because he is poor, and he witnesses abuse by both his mom and stepdad at home. He also fears there is no way out of his situation. As a reader you will feel sad and angry for Rex. Eventually you are given hope when the family dynamics stabilized, stress decreased and so did the abuse, the teacher apologizes for not always seeing Rex's potential, and Rex recognizes that education is going to be his way out of poverty. 
Clap When You Land by Elizabeth Acevedo
Camino Rios lives for the summers when her father visits her in the Dominican Republic. 
Yahaira Rios hates when her father leaves to spend his summer in the Dominican Republic.
Neither girl has ever met or heard of the other. But on one fateful day, separated by distance—and Papi's secrets—the two girls are forced to face a new reality in which their father ( THE SAME MAN) died in a plane crash, and their lives are forever altered.
And then, when it seems like their worlds are falling apart, they discover each other. Sisters, born months apart in different countries. How do they reconcile the lies of their father and build a new relationship? Written in verse, this book will make you sad, happy, and hopeful.
You Should See Me in A Crown
by Leah Johnson
This was such a sweet, enjoyable read. You Should see me in a Crown is a realistic fiction, LGBTQIA novel that follows Liz Lightly as she struggles to find a way to win a scholarship, repair friendships, and discover herself.  Liz lives in the prom-obsessed town of Campbell, Indian.  Campbell H.S. throws an elaborate prom every year. Part of the preparations is a  scholarship competition that is awarded to the winners of prom king and queen. Unfortunately, the competition has become focused on the popular and wealthy kids, which Liz is not. Liz is not going to let the status quo ruin her chance to win a scholarship that will allow her to go to the college of her dreams. 
The only thing that makes the competition  bearable is the new girl in school, Mack. She's smart, funny, and just as much of an outsider as Liz. But Mack is also in the running for queen. Will falling for the competition keep Liz from her dreams . . . or make them come true?
The Grace Year 
by Kim Liggett
I decided to read The Grace Year because I read a review that described it as being a combination between The Handmaid's Tale and The Lord of the Flies, and that is a pretty accurate description. This is an amazing dystopian story with an admirable protagonist, action, romance, drama, and violence.
The Grace Year follows Tierney James as she is forced by a male dominated society into the grace year. In Garner County sixteen year old girls are exiled, forced to spend a year shut up together in a fortress like encampment deep in the woods. Why? Because that is the age they come into their magic, powerful enough to seduce and ensnare all men, and send women into a jealous frenzy. Year long isolation enables girls to rid themselves of the "magic" men have decided plagues females, and return to society cleansed, ready to be dutiful wives. But, the grace year is fraught with danger – poachers, illness, starvation, the elements, and most deadly of all – each other. What's worse is, none of the girls who make it back alive ever speak of what happened to them over that year.
The Grace Year has been also already been optioned by Universal to be created into a full-length motion picture, directed by Elizabeth Banks. 
One of Us is Next
by Karen M. McManus
A ton of copycat gossip apps have popped up since Simon died, but in the year since the Bayview four were cleared of his shocking death, no one's been able to fill the gossip void quite like he could. The problem is no one has the facts.
Until now.
This time it's not an app, though—it's a game.
Truth or Dare.
Phoebe's the first target. If you choose not to play, it's a truth. And hers is dark.
Then comes Maeve and she should know better—always choose the dare.
But by the time Knox is about to be tagged, things have gotten dangerous. The dares have become deadly, and if Maeve learned anything from Bronwyn last year, it's that they can't count on the police for help. Or protection.
Simon's gone, but someone's determined to keep his legacy at Bayview High alive. And this time, there's a whole new set of rules.
Dear Martin
 By Nic Stone
Dear Martin follow Justyce McAllister, a 17 year old high school student. Even though Justyce is a top student at a prestigious private school in Atlanta, he discovers her still has to contend with the uglier parts of life. Justyce's experiences will open your eyes to the very real issues of racial profiling, toxic masculine sexism, police brutality, alcohol and drug abuse, and discrimination. 
 This is such an AMAZING book. There's simply no other way to describe it. It will leave you breathless and sobbing and unable to stop thinking about it.

I'm impressed by how well-done everything is: the characters, the story, the writing, the cover, the plot twists…It fully deserves 5 stars, and I wish I could give it more. If you liked  The Hate YOu Give, you will love this book too.